Face to Face Cert IBET 
The EMB Face to Face Cert IBET is a 55-hour group trainer training course which develops your ability to design and deliver Business English training specifically adapted to your learners' needs.
We love welcoming clients to our beautiful city; however, for the foreseeable future due to Covid-19, we will be offering online courses only. 
This format is particularly aimed at teachers who favour intensive courses in which the learning is done through listening and sharing ideas with other teachers.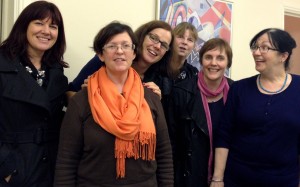 Course Delivery
The course is delivered in the heart of the beautiful UNESCO world heritage city of Bath over two weeks (27 + 28 hours). It takes place in a comfortable and elegant training location that provides wifi and refreshments.
How do I gain the English UK / Language Cert Cert IBET qualification?
On successful completion of the course, candidates have a further 12 weeks in which to submit a 4000-word (plus appendices) final assignment to gain the qualification. This is marked by EMB and moderated by an English UK examiner.
Course Modules
"All killer – no filler!" Kerstin McLenaghan, UK
1 Business English Definitions
2 Concepts and Language in BE
3 Needs Analysis and Research
4 Materials and Resources
5 Methods, Approaches and Techniques
6 Syllabus Design and Course Planning
7 Business Communications Skills 1
8 Business Communications Skills 2
9 Internationalism
10 Assessment and Evaluation
2019 Course Dates 
Course requested for Autumn – Mid-October onwards
Course Fee
£1100 / €1350
This doesn't include accommodation.
Assignment Fee
£180 / €250 (including personal assignment tutorial)
Entry Requirements
Required:
An initial teaching qualification such as the Trinity College London Certifcate in TESOL or local equivalent

At least one year's ELT teaching experience – a year being a minimum of 480 teaching hours

A current C1+ / C2 level of English 
Highly Advisable:
Due to the highly practical nature of the final assignment:
A minimum of 40 hours of business English training experience

Access to business English learners and resources 
SaveSave
How will I benefit from the course?
By the end of the course you will have increased confidence in assessing how to work effectively with any individual learner or group. Selection of content, flexibility in teaching methods, approaches and techniques plus the feedback and assessment process will all be part of the mix. So the techniques you learn on this course will be immediately applicable, whoever you are teaching.
"An extremely enriching experience for me" Anne-Marie Retout – France
How to apply
When you've read the full set of course details on this page, simply email Course Leader, Sara Helm  to request an application form.
You'll need to provide a digital copy of your teaching certificate before the course and may be required to prove that your current level of English is adequate in view of the demands of both the course and the final assignment.
Accommodation
As a popular tourist destination, Bath offers a wide variety of accommodation to suit all tastes. Some of our course participants like to find their own accommodation and others stay with one of our lovely host families. You can find our accommodation pages here.
What does the final assignment involve?
Towards the end of your course we'll offer you a personal assignment consultation. You will then have a further 3 months in which to submit your 4000-word assignment.
There is a choice of 4 questions, which you can find at the link here. For most of these, planning a course for a specific learner or group of learners is the main task. This also involves providing credible learner profiles and a comprehensive rationale of methods, approaches and techniques for the course (or portion of it) that you present.
What do we mean by English for the Business English Learner?
Over the years of delivering the IBET and similar courses, we've often been asked this question.
What we really mean is English for almost any adult working in the public or private sector, regardless of field, function or level, not just English for marketing or finance!
Many working people will need one or more of the core skills, such as email writing, presenting or participating in meetings. They'll also need to handle a range of scenarios. This might be as basic as arranging appointments or as complex as leading a formal international negotiation.
Doing business internationally also requires interpersonal and intercultural competences.
As teachers / trainers we discover which exact skills and scenarios will be relevant by conducting a thorough needs analysis of our learner's field or industry,department and specific role.
Do I need experience of teaching business English learners?
On the IBET course we cover all the essential aspects of planning and teaching Business English; however, since the assignment requires you to plan a course for a specific learner or group of learners, based on a thorough needs analysis, experience of and access to relevant learners is extremely useful, especially for assignment writing!
If you don't have this experience before you start the course, we'll do our best to help you find relevant learners if you apply well in advance of the course.
Certificate in International Business English Training (Cert IBET) – managed and validated by English UK and Language Cert. 
Follow us on twitter! @englishmeansbiz   Facebook: EMB Teach Business English