English for Business Studies Teachers – CLIL –
'Enseignement DNL'
Course Overview
The English for Business Studies course is aimed at teachers of business studies, economics or accounting and finance who wish to improve their English to discuss or (CLIL) teach their subject.
The course runs for 25 hours per week in the UNESCO world heritage city of Bath, UK and is delivered in a comfortable central location that provides free wi-fi and refreshments. It is eligible for  KA1 Erasmus staff mobility funding. 
On Request Dates
Next course date 19-23 August. Places still available.
We invite teachers to request course dates as early as possible. 
Course Leader – Sara Helm 
Sara Helm has 25 years' experience of teaching and developing both published and in-house English language materials for the secondary and tertiary sector as well as for adult learners already working in business, technical and professional fields. She has written materials for Macmillan, Pearson ELT, Thomson Heinle and York Press. 
"From the beginning on I was very glad that I got so much support from EMB especially from Sara. I am very glad that I had the chance to attend this perfectly for business teachers structured course and I can highly recommend it." Tamara H, Germany
English for Business Studies Teachers
Typical Outcomes (depending on focus)
*Greater confidence in delivering lessons / lectures
*More efficient course and lesson planning and scripting
*Wider range of supporting exercises
*Expanded business English vocabulary
*Awareness of communicative techniques
*Clearer pronunciation and delivery
*Broader knowledge of published and online resources
Click on the link below to download a free set of economics flashcard. Get hundreds more on the course!
Course Content
The exact course content is based on an initial needs analysis and refined through discussion with you before the course.
Previous applications show that our participants' course aims can be quite diverse so it is important for you to give us as much information as possible about your aims early on in the application process, particularly if you would like us to open up a group course date.
Course Timings
Most days we split the day into 3 hours per morning and 2 hours per afternoon with a 3-hour lunch break to enable our participants to recharge and enjoy Bath's many cultural opportunities during opening hours.
Museums and shops are open all day from 09.30/10.00 -17.30/18.00. Supermarkets stay open longer. 
Certification
EMB provides a course certificate detailing course content and hours studied.
Cultural Visits
The course includes a guided history tour of Bath. EMB can help participants to plan and book evening and weekend cultural activities to enhance their cultural experience and promote the use of English outside the classroom.
Erasmus Documentation
We' ll provide your teaching institution with the necessary course information to complete its Erasmus documentation before or during the course, as desired. 
PIC number: 920212229
English for Business Studies Teachers Course Fee
One-to-one   €990      
Group €590 per person
This includes a booking fee but does not include accommodation. See below. 
Application / Preparation
1 Please email Course Leader (click) Sara Helm
Give your: name(s) / school / location and the date of the course you are interested in.
2 Receive a course factsheet and an application form for the English for Business Studies Teachers course. 
3 Return the form as soon asap!
4 Receive a course registration document for your school. Complete and return it asap!
5 Have a quick Skype or Whatsapp chat with us
6 Receive a host family profile and contact details (if applicable)
7 Receive an invoice for you or your school administration to be paid one month before your course
8 Prepare any materials that you wish to bring.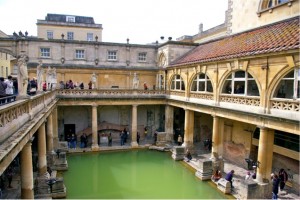 Accommodation
Stay with one of our friendly host families to give you the 'total immersion' experience! A host family stay guarantees you an authentic taste of Bath life and provides the opportunity for conversation and friendship building.  
Our host families are couples or single people who generally do not have children living at home. They live within a 30-minute walk of the course venue. Our host family charge including breakfast and dinner is £340 / €400 for 5 to 7 nights. It is important to book early to guarantee a host family.
"My accommodation was great. Close to the centre of town, lovely home, food was tasty and my hostess was very nice." Kaie S, Estonia
Over the summer holiday period we hope to provide families at a reduced fee of €350 based on distance to the course, amenities, etc.
Alternatively, we can recommend web links to bed and breakfast, hotel, apartment or hostel. 
 "The centrally located YMCA was perfect for me and my family." Matjaž V, Slovenia