English for Business Studies Teachers
The English for Business Studies Teachers course is a (mostly) one-to-one course for teachers of business-related subjects who wish to develop their own English language teaching materials and / or teaching skills. It is eligible for  KA1 Erasmus staff mobility funding.  
As curricula and teaching approaches vary significantly from school to school, this one-to-one format is designed to give each teacher the opportunity to develop materials and skills uniquely suited to their own teaching situation. The thirty hours includes a flexible 'unassisted' writing period, depending on individual need.
The course is available on demand and runs over five days in the UNESCO world heritage city of Bath, UK. It is delivered in an elegant and comfortable centrally located training facility that provides wifi access, and free refreshments. We also offer courses for two or more colleagues to develop materials / skills together. 
Follow us on twitter! @englishmeansbiz
English for Business Studies
Potential Course Outcomes
Greater confidence in using English for teaching 

Improved planning and delivery of lessons in English

Competence in language of instruction 

Better understanding of relevant teaching approaches and exercises

Larger business English vocabulary

Broader knowledge of relevant texts and online sources

Developed starter set of classroom materials

Stronger basis for developing further materials

Free set of business English warmers!
Course Content
The exact course content is developed based on needs analysis / discussion with the teacher before the course.
Preparation
We'll send you a pre-course questionnaire to complete. 
If you wish to stay with one of our host families (see below) we'll also send you a host family questionnaire to get the best match. 
English for Business Studies Course Fee
One-to-one
€990      
Closed groups
€590 per person
This does not include accommodation. See below. 
Erasmus Documentation
We' ll provide your teaching institution with the necessary course information to complete its Erasmus documentation before or during the course, as desired. 
PIC number: 920212229
Certification
At the end of the course you will receive an EMB English for Business Studies Teachers course certificate.
To Apply
To request further information or to apply, please email us at english@embiz.info
Cultural Visits
EMB can help participants to plan and book evening and weekend cultural activities to enhance their cultural experience and promote the use of English outside the classroom.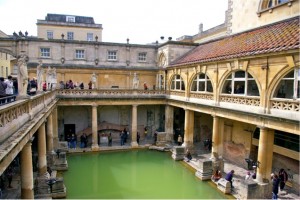 Accommodation
Stay with one of our friendly host families to give you the 'total immersion' experience! A host family stay guarantees you an authentic taste of Bath life and provides the opportunity for conversation and friendship building.  Our host family charge is £320 / €400 for up to 7 nights. This includes breakfast and dinner every day. 

Alternatively, we can help you to find a bed and breakfast, hotel, apartment or hostel. Any accommodation is a short walk from your EMB English course training premises.